The Lea Valley has become a very important area for wildlife, especially birds. Over 200 different species have been recorded there in recent years. As well as providing a home to many species their numbers are swollen by thousands of migrating birds that regularly rest in the valley during their long flights. Many birds from Northern Europe now take refuge in the valley over winter.
The best bird watching opportunities in the Stanstead Abbotts area are found at the Amwell Quarry Nature Reserve on the north boundary of the village. Many birds are also attracted to the nearby Rye Meads and Rye House Marsh. Amwell Quarry and Rye Meads have both been designated 'Sites of Special Scientific Interest' (S.S.S.I.) for their ecological value.
The Lea Valley Country Park is a defined area within the Lea Valley Regional Park that starts about three miles south of Stanstead Abbotts at Broxbourne and extends to Waltham Abbey, covering an area of about one thousand acres. Exhausted gravel pits have been allowed to fill, some of which are linked to form the River Lea Flood Relief Channel. These tracts of water together with marshlands, the River Lea and other water channels have transformed the Country Park into an important ecological wetland area. This is now particularly important because many similar natural areas in the UK are either diminishing or have disappeared. The Country Park provides a suitable environment for many nationally rare bird species, including the Bittern
Naturally, the birds are not captive so observant nature watchers anywhere in the area can be rewarded with sightings of any of the many species attracted into the Lea valley.
---
Amwell Quarry Nature Reserve
Many birds are attracted to the Amwell Quarry Nature Reserve, on the north boundary of the village. There is no public access to the quarry itself but rewarding viewing is possible from the boundaries of the site including the Amwell Walkway. This nature reserve is an excellent demonstration of how a redundant gravel pit can be carefully landscaped to provide the conditions that suit a wide variety of waterfowl and other wildlife. Otters were reintroduced to the Lea Valley at the quarry in 1988.
A selection of sightings reported at Amwell Quarry

Wildfowl
Smew / Garganey
Birds of prey
Hobby / Sparrowhawk
Waders
Lapwing / Little ringed plover / Ringed plover / Redshank / Snipe
Thrushes
Fieldfare / Redwing
Warblers
Reed warbler / Sedge warbler
Others
Bittern / Kingfisher / Reed bunting / Hawfinch / Green woodpecker / Great spotted woodpecker / Treecreeper / Siskin / Water rail
---
Rye House Marsh R.S.P.B. Nature Reserve & Rye Meads
The new £1million Rye Meads Conservation centre was completed in April 2003. This long establish wildlife conservation area now provides better facilities for the public comprising a vistor centre, viewing hides, paths and education area. The nature reserve provides a safe habitat for some of the UK's rarest wild animals, including otters, kingfishers, water voles and bitterns. The new centre should encourage greater numbers of the general public to see for themselves the local abundance of wildlife.
Rye Road
Hoddesdon
Herts
A selection of bird sightings reported at Rye Marsh
Wildfow
Teal / Gadwall / Tufted duck / Great crested grebe
Birds of prey
Sparrowhawk / Kestrel
Waders
Lapwing / Green sandpiper / Snipe / Jack snipe
Thrushes
Stonechat / Whinchat / Fieldfare / Redwing
Warblers
Grasshopper warbler / Sedge warblers / Reed warbler
Others
Bittern / Kingfisher / Yellowhammer / Water rail / Woodpeckers / Cuckoo / Water Pipit / Reed Bunting
---
Anglers are well catered for in the village and the rest of The Lea Valley Regional Park. Apart from angling on the River Lea there are several lakes in Stanstead Abbotts that offer good opportunities to land specimen fish.
All anglers over the age of twelve are required to hold a Environment Agency rod licence available from Post Offices. All National Rod licences expire on 31st March and failure to produce a valid licence can result in a maximum fine of £2,500. The rod licence must be carried when fishing and presented to any bailiff requesting to see it. The 2004/05 annual rod licence for coarse fish, eels and non-migratory trout is £5.25 for juniors, £23.25 for those aged 16 to 64 and £11.00 for concessions.

Some day permit opportunities exist along parts of the Lea and also on some of the lakes but many are either club waters or require the purchase of an annual permit.
---
Coarse fishing
Amwell Lakes
There are two lakes on the north side of the High Street between the River Lea and the Mill Stream. They are relatively small at 3 and 5 acres but both hold a fine stock of fish particularly Carp. Despite their size each holds over 100 double figure Carp with some known to exceed 30lb. Night fishing is permitted. Annual permits only and fishing limited from the numbered swims only. These waters are managed by RMC Angling
Abbotts Lake
Situated off Marsh Lane, it is approximately 30 acres in area and also holds specimen carp to 30lb. although the record from this water stands at 40lb 3oz. The lake also holds double figure tench and bream. The density of fish per acre is less than in the lakes mentioned above and this is reflected in a cheaper annual permit. This lake was originally a larger flooded gravel pit but was partially backfilled in the mid 1970's to allow the construction of the Stanstead Abbotts by-pass. Although now owned by The Lea Valley Regional Park Authority the fishery management is by RMC Angling. More information from RMC Angling
The Banjo, Nelson's Lake, Pretty Pit, Stock Pond and Mill Stream
These four angling lakes in the south-west of the village are again controlled by RMC Angling. Between them these smaller lakes have been stocked in recent years with common and mirror carp, roach, perch, bream and rudd. Banjo is known to hold specimen carp to 29lb, while Nelson's and The Stock Pond hold specimen over 20lb. Permits for these waters also cover an adjacent 900 yards stretch of the Millstream. More information from RMC Angling
---
River Lea day tickets
Day ticket fishing opportunities exist along many stretches of the Lea such as Dobbs Weir, Broxbourne Old Mill & Meadows and Rye Bridge to October Hole among others. Tickets can be bought from the bailiffs on the day.

Close season applies from 15 March to 16 June.
---
Fly fishing
Rib Valley Fishing Lakes

Two lakes situated in the Rib Valley next to the River Rib at Ware. The 13 acre Rib Valley Lake is stocked with brown, rainbow and tiger trout from 2½lb to 10Ib.+. Millennium Lake is about 4½ acres and is stocked with rainbow from 4lb. to 20lb.
---
Hertford County Yacht Club
Based at Abbotts Lake which is accessed from Marsh Lane, Stanstead Abbotts. The club has good facilities not just for sailing enthusiasts but also for the less waterborne members of the family. In addition to the club house there is a play area for children and a picnic area.
Marsh Lane
Stanstead Abbotts
WARE
SG12 8HH
Telephone: 01920 870485
---
Lea & Stort Cruising Club
Stanstead Abbotts Lock
Amwell Lane
Stanstead Abbotts
WARE
SG12 8DR
---
Stanstead Abbotts Marina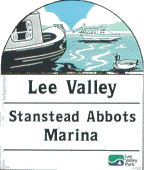 Stanstead Abbotts Marina
South Street
Stanstead Abbotts
WARE
SG12 8AL

Telephone: 01920 870499


Facilities available include the maintenance and repairs of boats, engines, pumps, fuel, pumping out etc., slipway and a 3 ton crane.


---
Lee Valley Narrowboat Co
The Lock Keeper's Cottage
Amwell Lane
Stanstead Abbotts
WARE
Telephone: 01920 870068
---
Lea Valley Boat Centre
Boat hire is available on the Lea at Broxbourne, about 3 miles south of Stanstead Abbotts. The fleet ranges from canoes to day cruisers capable of carrying 10 passengers and traditional narrow boats.
Lee Valley Boat Centre
Old Nazeing Road
Broxbourne
EN10 7AX
Telephone: 01992 462085
---
The Lea Valley Park authority supported by the Countryside Commission has identified and helped create a number of designated circular walking routes through attractive countryside around the village.
These routes are known as:

Route 1: Little Briggens (2½ miles)

This short walk can be started from Cappell Lane turning into Chappelfields behind the clock tower, then taking the footpath to Little Briggens. After Little Briggens the path turns left. Continue along the path ignoring the first crossing footpath. At the end of this path turning left will bring you back to Cappell Lane near Wilberforce cottages.
---
Route 2: Easneye Wood (4 miles)
This path tracks along the River Lea from The High Street bridge to the Amwell Path bridge. It then follows the path of the defunct Buntingford branch railway line that was axed by Dr. Beeching in 1964 (now Amwell Walkway). It then passes the River Ash and goes around and through Easneye Wood, back towards Hollycross Road, past St Andrews Church to the High Street to continue the loop back to the River Lea.
---
Route 3: Ash Valley (3 miles)
Starting from the car park next to the old railway bridge along Hollycross Road follow the Amwell Walkway under the bridge to the River Ash. The route then takes a northerly route past Widbury Wood and Widbury Hill Farm. It then crosses Widbury Hill (B1004) taking a semi-circular path past Swades Farm, back across the B1004, then past Watersplace Farm. After crossing the River Ash take the right hand track back along Amwell Walkway, with Easneye Wood on the left, to the car park.
---
Route 4: Hertford Heath (4½ miles)
Starting at the footpath in Amwell Lane (near the war memorial) walk towards the River Lea after crossing the railway line. At the Lea take the left hand towpath as far as Hardmead Lock. Turning left follow the public footpath across the New River and the London Road (A1170). Follow the path to and then along the side of the A10 dual carriageway. Cross Stanstead Road (B1502) near the A10 bridge and then onto the footpath on the other side of the road. Follow this path into Golding Wood taking the left branch towards Haileybury College. The nature reserve passes on the right. At Haileybury College take a left turn towards Hailey Wood. Take the left path at Hailey Wood following the path all the way to the A10 bridge again but after crossing the road turn right. Take a first left into Gypsy Lane, follow the road to the end, cross Pepper Hill, bearing right then left onto the public footpath. Follow path through to Amwell Pool then right along New River back to starting point.
---
There are many miles of public footpaths in and around Stanstead Abbotts as well as significant areas of woodland with public access. You are recommended to use the Ordnance Survey Explorer series maps (2½ inches to 1 mile) that give a clear indication of public footpaths and bridleways. There are also many other public rights of way throughout the rest of Hertfordshire that are worth investigating.
In addition to the many walks through woodlands and open country around the village there are pleasant walks alongside The River Lea and New River.
The New River walk starts at Ware and continues through to the M25. There is no legal public right of way to the New River walk but public access is graciously granted by the owners (Thames Water Utilities) at the present time. There are one or two areas where the walking route cannot follow the immediate path of the river but all necessary detours to pick up the river again are clearly marked and are relatively short. Most footpaths are generally suitable for all weather conditions but some grassed sections near Stanstead Abbotts become impassable to all but the most determined walkers with suitable footwear during the winter months.
The Lea Valley Walk extends from near its source at Luton to the Thames at Bow. Twenty five miles of the River Lea fall within the Lea Regional Valley Park.

---
Lea Valley Country Park
Cycling in the Lea Valley Regional Park is free and there are over 30 miles of off road cycling that individuals or families can enjoy in traffic free safety. Routes are clearly signposted. Cycle hire is available in the park from:
Lea Valley Cycle Hire
Old Mill
Mill Lane
Broxbourne
Telephone - 01992 630127
Open daily 0830 - 1900
except Tuesdays 1400 - 1900
Closed Mondays except Bank Holidays
---
New River
Cycling is not permitted on the entire New River path.
---
River Lea
Towpaths are the responsibility of British Waterways. There is no automatic right of way for cyclists on BW towpaths but cycling is allowed although officially a permit is required from them in advance. These permits are free although this policy is under review and there is the possibility of a small charge being made for the permit at some time in the future.
Telephone British Waterways on 01923 226422 for further information
---
For those interested in motor sport there is an excellent Kart track locally, the Rye House Kart Raceway. You can race your own kart or hire one at the facility if you don't have one. All the safety equipment you need such as helmets and overalls can also be hired.
Rye House Kart Raceway
Rye Road
Hoddesdon
Herts
EN11 0EH
Tele: 01992 460895 / 451170
Fax: 01992 468812
---
Another local amenity for motor sport enthusiasts at Rye House Stadium is Speedway racing. There has been a strong speedway presence here for many years but until the end of the 2000 season the sport had to share the track with stock car racing. Stock car racing has now been abandoned at Rye House and the track upgraded to what is regarded as possibly the safest speedway track for riders in the UK.
For full match reports, meetings schedule, team news etc visit the Rye House Rockets web site.

Rye House Stadium
Rye Road
Hoddesdon
Herts
Tele: 01992 469000
---
Race meetings are held at Rye House Stadium regularly each Thursday and Sunday with additional meetings taking place on Bank Holidays.
Address and telephone number as above.
---
If you enjoy the Hertfordshire countryside have you ever considered looking at it from another perspective, like from a hot air balloon?. It is not the sort of thing most of us can enjoy on a regular basis but it really is a sensational yet peaceful way to see the green fields and villages of the county laid out below.
Today, more and more people are taking to the air in hot air balloons and sharing an experience they will never forget. Treat yourself, or better still get someone to treat you, to a gift flight.
For flights in the local area check out the Balloons over Hertfordshire web site.
---